Intro to Amazon Turk (https://www.mturk.com/)
If you read my first blog post, I ended with a note on utilizing the website, Amazon Mechanical Turk, in order to collect your own data from a pre-made survey on a site like Google Forms. Amazon Mechanical Turk is a site that allows users to create or connect their pre-made survey to their own profile to send out to hundreds of survey takers across the world. The site includes an HTML editor for those who wish to create their surveys through coding. For those who may not be accustomed to coding, I would suggest creating your survey beforehand with Google Forms, as was discussed in detail in the previous blog post. If a user chooses this route, it is fairly easy to attach a pre-made survey off of another site to your Amazon Turk profile.
Creating an Account
Creating your account is fairly simple. The first step is knowing the difference between a requester and a worker. Those who use the site to get paid to take surveys are the workers and those who are using the site for data collection are the requesters. If you are reading this blog right now you are most likely a requester and must create an account as such. Once you have created an account, select the "Create" tab on the top left of the page to begin creating your first project. This will bring you to a full list of data collection options as seen in the photo below. The first category, "Survey" contains only two options. The first, which is highlighted in yellow, is "Survey Link" and is the best option for attaching a pre-made survey into the site. The second, which appears below this is "Survey" which would be for those who wish to utilize the HTML editing tool to code their own survey.
Editing your Project
Once the "Survey Link" is selected, press the "Create Project" button at the bottom right of the screen to get started. This will take you to the edit project page where you will be specifying items such as the title of your project and how you are compensating those who take your survey. Under the first tab titled, "enter properties", shown below, there are a few questions in this section to be aware of.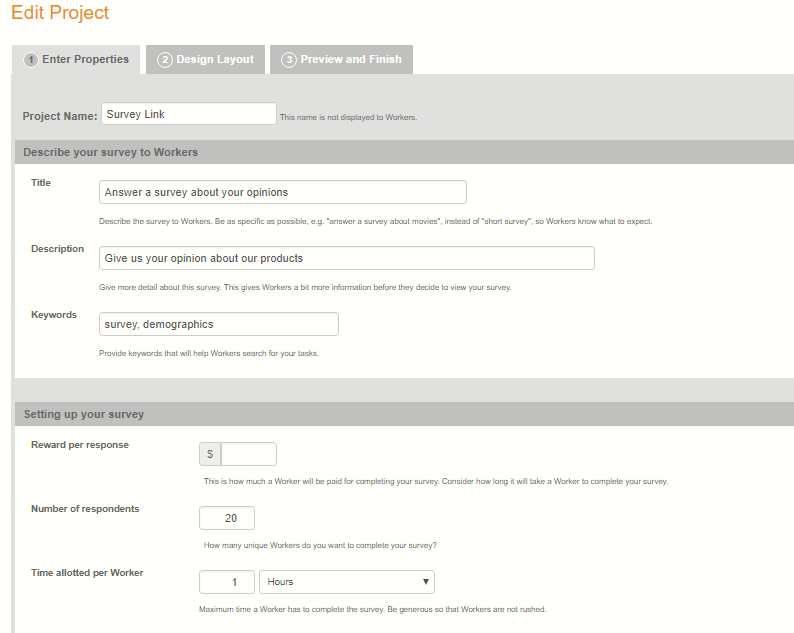 It will ask you for a reward per response, number of respondents, and time allotted per worker. The survey takers on Amazon Turk are compensated for taking these surveys. This is an out of pocket price that you need to be willing to pay for every survey taker and can be as little as 10 cents. This price is up to you, but do be cognizant that there are a large number of surveys needing responses out at any time on the site and they will be looking for a fair price for their time. Take into account the time it takes for the worker to complete your survey and how many responses you will be needing. There are some research projects that will need hundreds of responses and some that will be on the lower side, but it is up to you to decide not only what you need, but what you are willing to pay for.

The number of respondents is an important section as it will determine the results of your research. Take into account how many responses you will need to find significant correlations in your results. When it comes to the time allotted per worker, you must know an approximate time of how long the survey will take to fully complete and then give the respondent a fair amount of extra on top of the average.
Additionally, under the same tab, there is a section of questions about worker requirements. The first asks if you want to require that workers be masters in order to take your survey. Survey takers who have earned a master qualification on Amazon Turk are those who have demonstrated excellence in performing a wide range of tasks such as surveys on the site. It is up to you if you would like your responses to be from more experienced workers, but it incurs an additional 5% fee.
This section will also ask what specific qualifications you will be requiring for your workers to meet. For example, you can limit those who are able to respond to your survey to a certain gender, age group, or marital status. Qualifications like these are considered premium and will also incur an additional fine. The three qualifications that are free are the worker's location, the number of work they have had approved and their approval rate.
To learn about the "design layout" and "preview and finish" tabs, as well as how to attach a pre-made survey from Google Forms into Amazon Turk, stay tuned for my next blog post!