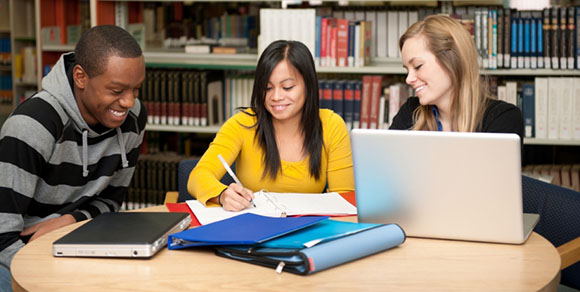 Start with an outline!
It may seem like a simple step but it is one that people sometimes overlook. Outlining the structure of your paper will help you organize your thoughts. Plus, then you can treat your paper like a series of mini-papers that need written, rather than one big research paper. After you get the skeleton of your paper going, start to add some meat on those bones. Just add some brief content about what you are trying to accomplish in each section, or wordsmith a key sentence or two, or put an item or two you will cite in that section.
Consult a template
While getting started with your outline, it can sometimes be challenging to know which section should go where, or what your heading should be, etc. While a basic research paper always moves from "Introduction" to "Literature Review" to "Methodology" to "Results" to "Conclusion," not every paper uses those explicit terms. Consult a template. This can help make things more clear. Think of templates as a way to help mold your paper. Methods Mentor offers APA and ASA style templates for your research paper.
Collaborate with your group
If your research paper is being done as a group project, make sure to consult with your group and assign parts right away. Once you have your outline, it will be easy to assign a person to each section. Clearly label each section with the name of the person who will be completing that section. Use your outline as a guideline for your entire project. Keep it in a separate Google Doc (Google Drive is an easy and free way to collaborate on projects). It is helpful to have a Google Doc dedicated just to the final paper, and another one for the outline. This ensures you are clear on what the overall format should be, and who is doing each part. If you come across a great journal article for someone else's section, or have an idea, you can always add it to their section in the outline as a suggestion!
Assign Editing Duties
It is sometimes daunting to try and proofread a whole 10 or 20 page paper on your own! Make sure to split up the proof reading work when your paper is finished. If there are four people in your group, grab a partner and read the other person's part, and have them do the same for you. It can be difficult to find mistakes in your own work when you have been mulling it over for hours. Or split up the type of editing. One person check that the citations and references conform to ASA style, another person read it out loud to listen for grammar mistakes, another person ensure that there are no spelling errors and smooth transition sentences between sections, etc.
Set Deadlines
Of course your professor will set deadlines for your paper, but your group should set some internal deadlines as well. Give everyone a soft deadline of a few days before the due date to have everything completed. That way, the group can have an extra few days to fine tune the paper rather than scramble to get it done the day it is due. If you have to collect data and analyze it, you need to set deadlines far ahead. Create milestones, like "have 5 interviews done and transcribed by X date" or "analyze for key themes by X date." Especially if you are doing a qualitative project (like ethnography or interviews), data collection (interviewing & transcribing) and data analysis (coding in software and looking for themes) take a lot longer than in quantitative papers, so plan accordingly!
Citation Doc
Have a separate google folder with pdfs and a doc that contain everyone's links and citations to what sources they have been using throughout the project. That way, you can make sure you have them all in one place and other group members can also pull from the same sources in their sections. Some groups even designate one person to do the reference page, so that they can become the team expert on the designated style (either APA or ASA) and make sure that it is all correct and consistent. Remember, everything you cite in-text must also be in the references, and vice versa, everything on the reference page must be cited in-text. Be sure that you are familiar with how to cite correctly. Methods Mentor has helpful videos for how to create citations and a reference page in both ASA and APA style!